The Ethereum blockchain is still the leading option for NFT sales. However, Layer 1 and 2 networks, Polygon, Cardano, and Solana, are experiencing more NFT transactions than before.
Quick Takes:
The NFT sales volume for Ethereum has dropped by 12%.
Solana and Cardano gain momentum in the NFT market. Projects like Spacebudz, Goofy Gophers, and Mad Lads drive sales volumes and transactions on these alternative blockchains.
The entire NFT market has been declining throughout the week (although some recovery has been observed in recent days).
Emerging Trends in NFT Transactions
Recent data from CryptoSlam reveals that the Cardano blockchain network, with its ADA token, surpassed the Ethereum scaling network, Polygon.
On Monday, the Cardano blockchain became the fourth most popular network in terms of NFT transactions:

The Cardano blockchain's rise in NFT sales is led by two decentralized projects: Spacebudz and Goofy Gophers. Together, they have had around 185,000 ADA (approximately $70,000) in trading volume over the past 24 hours, according to CNFT.io.
Over the past week, alternative blockchains like the Solana network have noticed a considerable increase in sales — most of which is driven by the release of the new hot NFT project on the block, Mad Lads. High demand for these collectibles led to congestion, therefore, a delayed mint. The frenzy surrounding Mad Lads accounted for around $8 million of the $9.9 million sales on the Solana network — boosting the sales volume of the blockchain network by 129% this week alone.
Moreover, according to Dune, Polygon has also been noticing a rise in sales over the past couple of days. This is because of the iconic blue-chip NFT collection Y00ts migrating from Solana to Polygon — driving a lot of movement on OpenSea and Magic Eden. According to Sealaunch, the project now has an overall volume of around $6,5 million.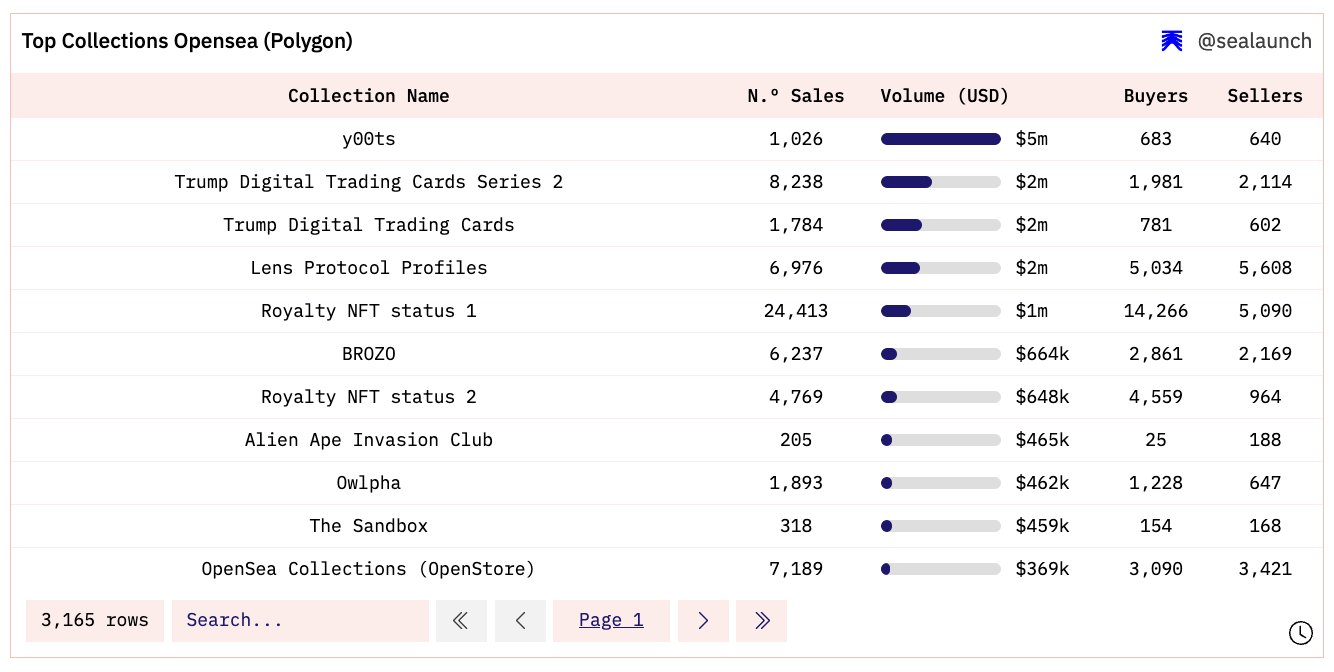 CryptoSlam data also shows that Ethereum's sales volume has decreased by 12% in the last week, which is assisting toward NFT sales on alternative chains growing.
Sales across famous NFT marketplaces, like OpenSea, LooksRare, and Blur, also dropped to 7,805 last week, on April 19 — the lowest since July 2021. Data shows that the NFT market is generally slowing down.
Only a few OG projects have been surging in NFT trading recently. Let's hope a bull market is just around the corner.
Subscribe to the NFT Lately newsletter to receive news covering the latest NFT-related drops, releases, reviews, and more.